Rhys and Cath van Sitter have been managing the pools as our onsite managers since 2012.
Cath was born and raised in Rotorua. She is the youngest of four children and was raised in Owhata, one of the eastern suburbs of town. After completing her schooling in Rotorua she packed her bags to further her studies in Auckland which is where she met her Knight in shining Armor, Rhys.
Rhys being a true blue Westie from the heart of the Waitakere's in Auckland woed Cath with his "style and charm"… Eventually this lead to them starting a family and returning to make Rotorua their home.
After the birth of their daughter Cath decided to follow her passion for cooking and trained to become qualified at what she already did so well. Cath went on to own and operate a catering company where she traveled the length and width of the north island feeding the masses. 10 years on she became restless with this life style and decided to take on the A la carte world. Moving through the ranks in one of Rotoruas top restaurants she found was a massive challenge and one she really enjoyed. As the children started heading into their teenage years it was here that she came upon the opportunity to manage the Hot Pools. The decision to put down her knife and pick up a hose at the pools was an easy one as it enabled her to be available to her family during these important years.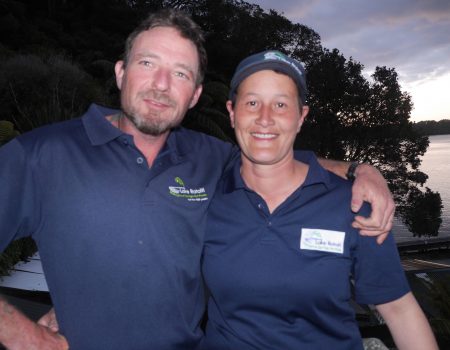 Rhys has always worked hard to support his little family and left his background in construction behind in Auckland to then become the lead dispatcher at Ramsey Roundwood in Rotorua which was the top supplier of posts and poles throughout New Zealand at the time. After being made redundant through Carter Holt Harvey he found himself as the new Maintenance Manager at the (then) Duxton Hotel in Okawa Bay on the shores of Lake Rotoiti. He was still working there when the decision was made to take on the Hot Pools. At this point it became difficult to have full time work and also be available to support Cath in her role as manager of the pools, when his contract came up for renewal at the Hotel he turned it down to free up time to assist when needed and take casual work as it came along. Fortunately, in February of 2016 he was offered a full time role to aide in the exciting renovation and rebuild here at the pools.
We have with great enthusiasm agreed to do our 5th season a Lake Rotoiti Hot Springs and are looking forward to seeing what this new season will bring.