For tours to Lake Rotoiti Hot Pools
please contact any of the below tour operators:

Waimarino Adventures
Waimarino Kayak Tours offers fully guided kayaking experiences over to the Hot Pools. Join us for a visit on either a fun day trip or an evening experience under the starlit sky, with both featuring a hidden glow worm cave! Leave the motorized transport behind and become the captain of your own vessel.
Phone: +64 7 576 4233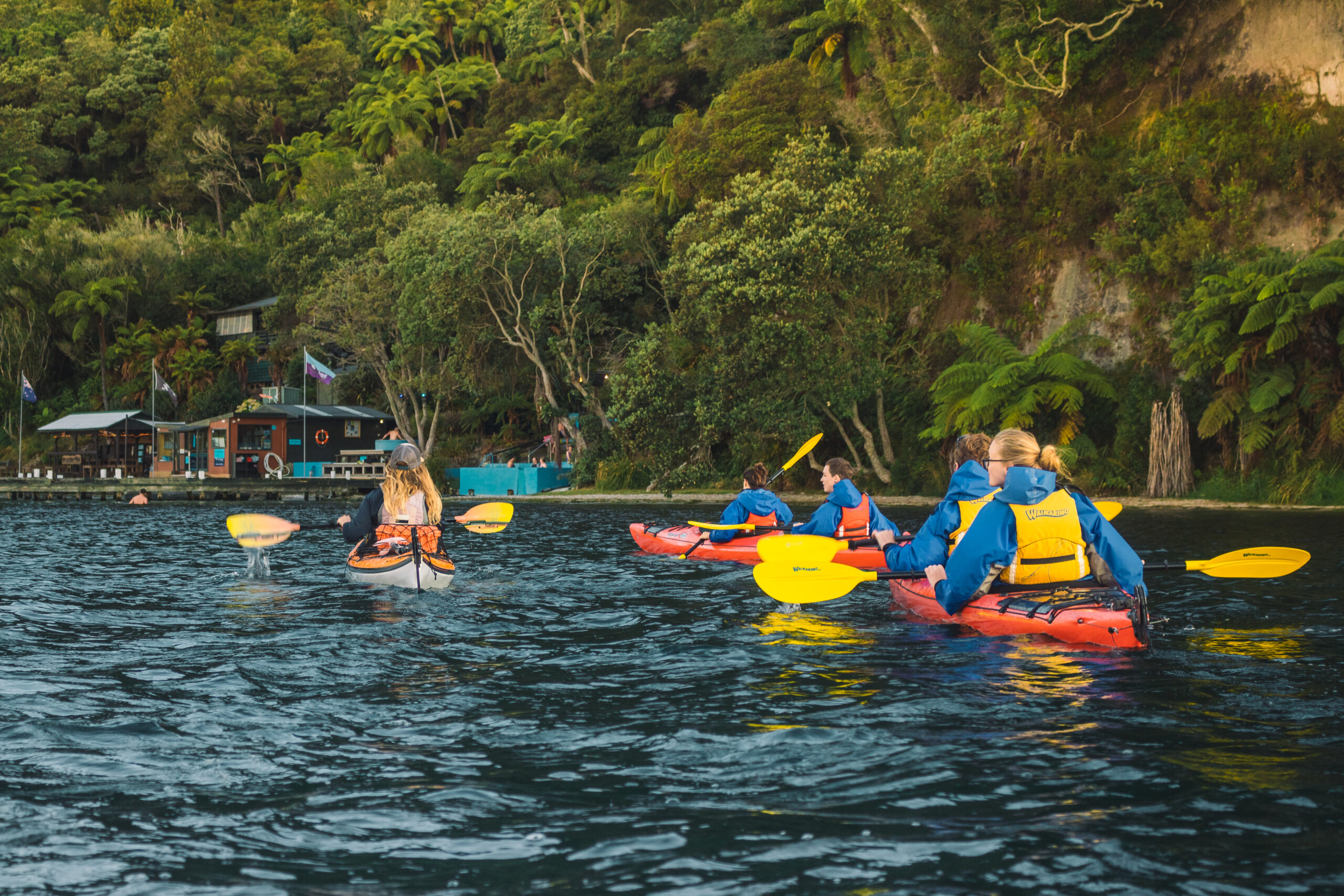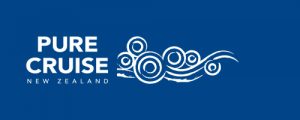 Pure Cruise
Welcome Aboard
Pure Cruise offers escape to sheltered bays, geothermal beaches, glow worm caves and lake edge hot pools.
Our unique vessels are specifically designed for shared daily charters and private experiences created just for you.
Phone: 0800272456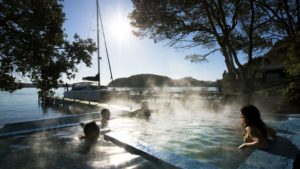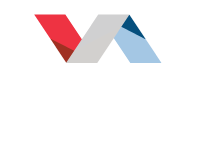 Volcanic Air
2 Hour Scenic Flight from Rotorua City
Embark with us on this relaxing 2 hour floatplane experience, departing from the Rotorua City lakefront. After taking to the skies from the water in one of our floatplanes, we'll fly you over Lake Rotorua and Mokoia Island, landing on the neighbouring Lake Rotoiti. Only accessible by water, the beautifully secluded thermal hot pools of Manupirua Bay await you. Seemingly disconnected from the world, here you can simply relax and let your life stress wash away. Take your time soaking, cool off in the lake, rest on a lounger, and repeat.
After you have had time to relax and enjoy the thermal pools, we will lift off the water once more and bring you back to our centrally located floatplane base.
15-minute Scenic Flight from Lake Rotoiti Hot Pools
Departing straight from Lake Rotoiti Hot Pools, experience the thrill of a floatplane take off, before climbing above Lake Rotoiti's western edge. If you choose to extend your experience the flight will also include beautiful views of Lake Rotoehu and Rotoma before landing back at Manupirua Bay at the hot pools once more.
Option one: Lap of Lake Rotoiti (Flight time approx 8 minutes) $115 per person
Option two: Lake Rotoiti, Lake Rotoehu and Lake Rotoma (Flight time approx 15 minutes) $185 per person
More Information
All flights depart and arrive from Lake Rotoiti Hot Pools.
Minimum numbers apply
Phone: +64 7 348 9984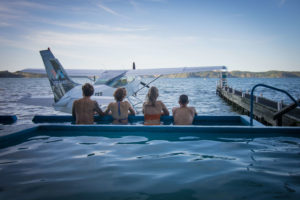 River Rats Raft
River Rats Raft & Kayak have been offering quality adventures for over 35 years. Join us for a guided Kayak trip to the spectacular Manupirua Springs Hot Pools on Lake Rotoiti. On arrival, we will get you kitted up in the paddling gear and after a safety brief, we paddle across scenic Lake Rotoiti to this amazing spot only accessible by boat. Situated right on the lake edge is a range of hot pools of varying temperatures all fed from a natural hot spring. Paddling time is usually around 1 hour each way. There is plenty of time to relax and enjoy the hot pools or swim in the lake before enjoying a leisurely return paddle. During the paddle, your guide will tell you some of the history of the area and some local Maori legends.
In summer an evening option is available that includes a BBQ dinner with a sunset paddle and a visit to a hidden Glow Worm cave.
Phone: +64 7 345 6543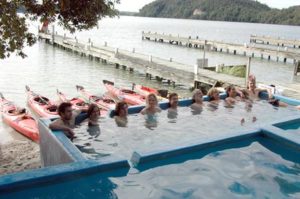 Katoa Jet
For the past eleven years, Katoa Jet has been sharing this hidden gem with tourists from all over the globe with exhilarating jet boat rides. Leaving from our city lakefront location, enjoy a 45-minute blast across Lake Rotorua, through the stunning Ohau Channel and then onto Lake Rotoiti and the Hot Pools. Our professional drivers will ensure all of your needs are catered for whilst providing you with history and information on this iconic area and thrilling you with speed, spins, and adrenalin throughout your journey.
At 2.5 hours, including travel time, this thrilling adventure is an incredible value for money.
Phone: +64 7 343 7600

Rotoiti Explorer
We offer memorable cruises on beautiful Lake Rotoiti – the crown jewel of the Rotorua lakes. Join us for a modern and comfortable cruising experience. Our main vessel is the 'Rotoiti Explorer', a large 12m pontoon style boat with two passenger decks and licensed for 50 passengers and five crew. This boat is very stable on the water meaning you can move freely around the boat and enjoy the large viewing deck. For smaller groups, we have 'Bulldog', a 6m Blade Runner catamaran licensed for 10 passengers. Explore the many sheltered places to picnic, party on board, unwind with a hot swim at Manupirua Hot Pools (accessible by boat only), soak up a sunset, and be awed by the natural beauty of Rotoiti's native bush-clad shorelines. The more adventurous may like to take a quick dip in the cool waters of Lake Rotoiti. Simply magic.
Phone: 0800 272456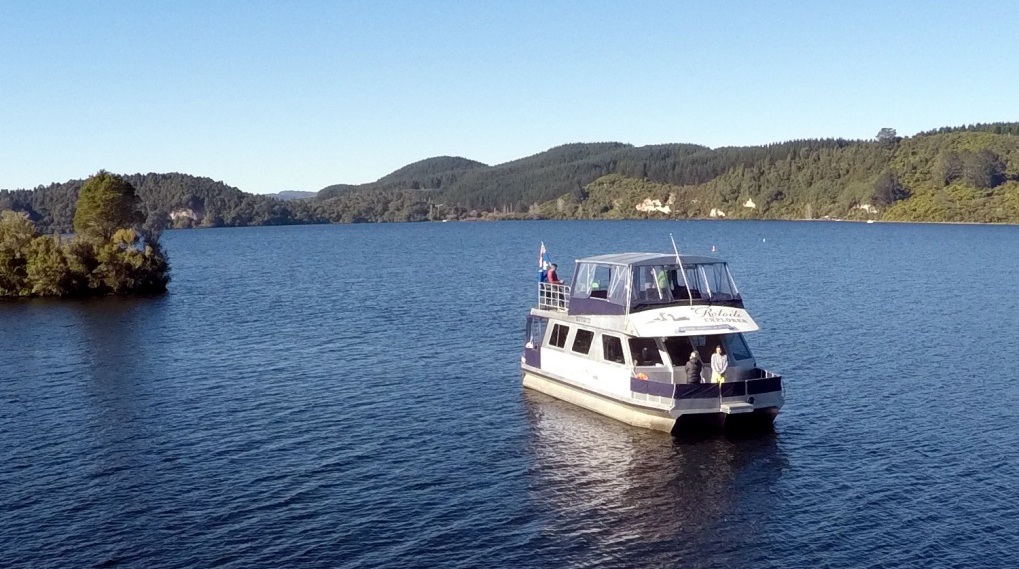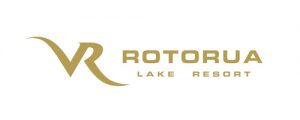 VR Rotorua Lake Resort: Water Taxi with Rotoiti Water Shuttles
Located on the shores of beautiful Lake Rotoiti, and just 15 minutes drive from central Rotorua, lies VR Rotorua Lake Resort, known for its idyllic setting and superb facilities. The magnificent surroundings of VR Rotorua Lake Resort, Rotorua provide the perfect setting for a weekend getaway, or a longer break, where you can relax and unwind, and simply soak up the atmosphere.
Book yourself a spot on the Water Taxi which departs from VR Rotorua Lake Resort, and a relaxing stay while you're there.
Phone: +64 7 362 4599