We are very excited to announce that we have partnered with Volcanic Air to offer you a NEW scenic flight tour, departing straight from Lake Rotoiti Hot Pools!
When Debbie Griffiths - Travel Presenter wants to chill, she heads for the heat. Check out Debbie's day of super-soaking at the hot Pools with Waimarino Glow Worm Kayak Tours
When Debbie Griffiths - Travel Presenter wants to chill, she heads for the heat. Check out Debbie's day of super-soaking at the hot pools with Waimarino Glow Worm Kayak Tours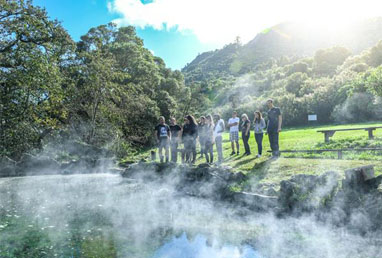 Katoa Lake Rotorua Special:
We are now offering a magical experience leaving from Rotorua's city lakefront.
Experience not one but three components. Experience the scenery and travel on two lakes in comfort & warmth, soak in natural hot pools and discover Mokoia island. An amazing way to see the area, and spend 4 hours of being inspired. Great for couples or families.
We were recommended this place by some lovely Kiwis we met while travelling last year, so we had to go while our cruise was in port in Mount Manganui! The staff were incredibly nice and we has such a relaxing time.

We traveled to New Zealand to visit some family in Auckland and spent some time down in Rotorua for a couple of days. While there, we went over to Lake Rotoiti which was BEAUTIFUL! I've been telling all our friends since we've been home how stunning it was!

Very relaxing, we visited early in the morning which meant we basically had the whole place to ourselves. Would recommend an early visit if you want to enjoy the peaceful, quiet atmosphere while the weather warms up. You can watch the wildlife (birds) it really is incredible

We have just visited the beautiful spring pools on Lake Rotoiti, what a magnificent spot, the beauty of this place in amazing and I am so glad we visited. We kayaked over, spending the day on the lake, it truly was a wonderful experience. Highly recommend visiting

Thanks for the great hospitality, will be back next summer for sure.

This is one place if you are visiting Rotorua you need to visit, I have never been anywhere like it, its serene and peaceful and the hot pool water being naturally heated is a relaxing experience. I hope we can visit again one day.

You have to go here!!!!! We had a brilliant time in the outdoor pools. Loved the different temperatures, the sulphur, then jumping in to the cold lake and using the slide. Had a blast.

"Great visit with lovely sunset, what an amazing asset on our lake this place is!"

"Awesome day today at the hot pools, will see you again tomorrow. You are lovely people over there!"

"Thanks Kath, Rhys and the team for a brilliant 100th Anniversary weekend."
We Are a Rotorua, New Zealand Operating Business