Welcome to Lake Rotoiti Hot Pools
Lake Rotoiti Hot Pools Online
Kim Webby from Stuff Travel recently gave us the pleasure of an awesome write-up on her time here at Lake Rotoiti Hot Pools.
---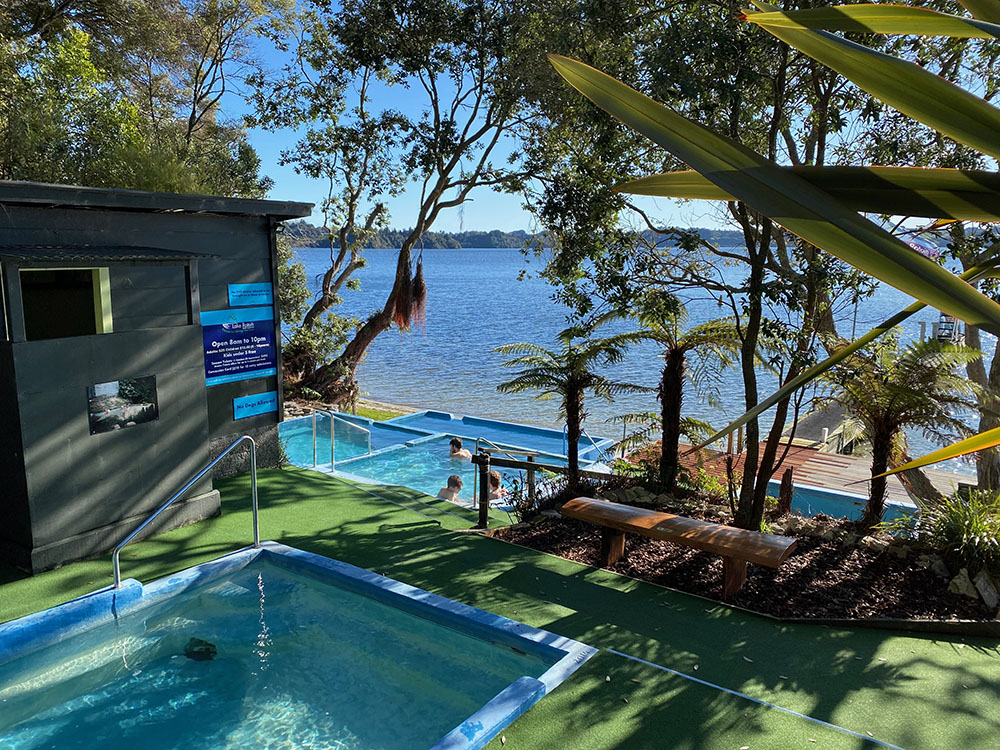 Megan from Blogger at Large has written a great article on the best things to do in Rotorua, and we're on the list!
---
Volcanic Air Special:
We have partnered with Volcanic Air to offer you scenic flight tours, departing straight from Lake Rotoiti Hot Pools!
Experience the thrill of a floatplane take-off, before climbing above Lake Rotoiti's western edge. The extended flight experience will also include beautiful views of Lake Rotoehu and Rotoma before landing back in Manupirua Bay at the hot pools once more.


Starlight Gourmet Kayak Tour
This experience is well worth the time and effort to get here.
A 5-star scenic kayaking adventure on Lake Rotoiti, includes a soak in the Lake Rotoiti Hot Pools, Gourmet BBQ Dinner and visit a hidden Glowworm Cave. This 4.5 hour experience has it all


Katoa Jet Special:
Save $20pp On Saturdays at 1pm.
We are now offering an exhilarating trip leaving from Rotorua's city lakefront.
Experience the scenery and travel on two lakes plus the Ohau Chanel in our Jet boats and soak in natural hot pools. An amazing way to see the area, and spend 2.5 hours of your day. Great for couples or families.


---
With access restricted to boat, jetski or float plane, this special treat is Rotorua's best kept secret. You can get here by water taxi.

Well worth the paddle to get there

I believe this was the place I visited with a mate after waterskiing some 40 years ago...... WHAT A GREAT PLACE!!!!!

Great place to visit. Love these hot pools, especially in winter. And even in summer are very special place to go to.

Awesome spot only accessible by boat

Superb, Steve gave us a great little flight, still hot on the bone 2 hours after.

A very nice little gem hidden away on Lake Rotoiti. These hot pools offers a great place to stop for lunch while our boating on the lake. Stop off to have a dip in the lake or in hot pools, and a slide into water for the kids to play on. The venue offers changing rooms, and onsite liquor license, Free Wifi. Great place to relax in the hot pools, each having a different temperature.

We always enjoy a swim here. Good facilities. Many pools of different temperatures. Bbq area. Very friendly hosts. If you can get onto a boat it is a must do, as this is the only way of access

Awsome place and a great way to spend a couple of hours. Arranging a boat to pick up our group of 8 was hassle free. Recomended.

This is a must if your in rotorua ! Definitely loved growing up as a kid n taking trips here! Since i was a kid tho the place has definitely been vamped up so to speak 💯 They have awesome bbq facilities! Just make sure you take your own rubbish bag, as any mess u make you must take on your trip back to shore. Another convenient amenity are the mens and womans change rooms, plus the on site toilets. Not gonna lie they are long drops, which i hate myself but hey, when u gotta go u gotta go😂💯anywho...There are 7 pools all up varying in size and temperatures, all in all its the perfect place to go to soak your worrys away, my happy place at that 😍😍

Epic place must go there if you got boat or out of Rotorua by jet boat or plane.... Or your a bloody good swimmer

We were recommended this place by some lovely Kiwis we met while travelling last year, so we had to go while our cruise was in port in Mount Manganui! The staff were incredibly nice and we has such a relaxing time.

We traveled to New Zealand to visit some family in Auckland and spent some time down in Rotorua for a couple of days. While there, we went over to Lake Rotoiti which was BEAUTIFUL! I've been telling all our friends since we've been home how stunning it was!

Very relaxing, we visited early in the morning which meant we basically had the whole place to ourselves. Would recommend an early visit if you want to enjoy the peaceful, quiet atmosphere while the weather warms up. You can watch the wildlife (birds) it really is incredible

We have just visited the beautiful spring pools on Lake Rotoiti, what a magnificent spot, the beauty of this place in amazing and I am so glad we visited. We kayaked over, spending the day on the lake

,

it truly was a wonderful experience

.

Highly recommend visiting

Thanks for the great hospitality, will be back next summer for sure.

This is one place if you are visiting Rotorua you need to visit, I have never been anywhere like it, its serene and peaceful and the hot pool water being naturally heated is a relaxing experience. I hope we can visit again one day.

You have to go here!!!!! We had a brilliant time in the outdoor pools. Loved the different temperatures, the sulphur, then jumping in to the cold lake and using the slide. Had a blast.

Great visit with lovely sunset, what an amazing asset on our lake this place is!

Awesome day today at the hot pools, will see you again tomorrow. You are lovely people over there!

Thanks Kath, Rhys and the team for a brilliant 100th Anniversary weekend.
We Are a Rotorua, New Zealand Operating Business